For this month's Crazy Cooking Challenge we were asked to find the ultimate blueberry muffin recipe. I knew my family loved crumb top muffins so that's where my search began. I actually prepared two different recipes before I decided to share the
recipe
from
Adventures in Shaw
.
The crumb top was the deciding factor since the actual muffin recipes were essentially the same.
Shaw Girl from Adventures in Shaw is a transplanted southern belle that now finds herself in the heart of D.C. She has a food blog with loads of recipes and great pictures! If you stop by (and you really should), tell her you came by way of The Shady Porch.
Delicious Crumb Top Blueberry Muffins
Shaw Girl says that she made 18 muffins with her recipe and you can
see from her pictures
her muffins are probably standard size while I on the other hand used a jumbo muffin tin making
6 jumbo muffins.
Ingredients needed: (recipe as I prepared it)
1 3/4 c. self-rising flour
Jumbo Crumb Top Blueberry Muffins
1 c. sugar
3/4 c. milk
2 eggs
1/2 oil
1 1/2c. blueberries
Crumb topping
1 c. flour
4T brown sugar
2 T sugar
1 stick (1/2 c.) butter
Preheat oven to 350 degrees (she used 375 degree setting but my oven is wonky and burns hot). Line muffin tin or spray with cooking spray.
Crumb Topping - In a medium bowl mix flour, brown sugar, sugar and softened butter with a fork until crumbly. Set aside.
Muffin Mix - Mix flour and sugar using a fork. In separate bowl mix the milk, oil, and eggs. Now gradually add the liquid mix to the flour mix until well blended. Now fold in the fresh blueberries. Spoon the batter into the prepared muffin tin and add crumb topping to each muffin until you've used up the mix.
Bake at 350 for until golden brown and you can insert and knife and it comes out clean.
Best served with a pat of butter and a big glass of milk ( or coffee).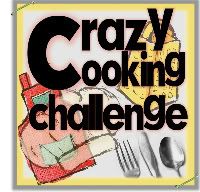 My previous Crazy Cooking Challenge recipes:
Challenge Winning - Mmmmm...Great! Macaroni & Cheese!
,
Skillet Chocolate Chip Cookie
,
Challenge Winning - Cheesy Baked Mashed Potatoes with Bacon!,
No Fail 3-Ingredient Fudge!
,
Chocolaty Chocolate Cake
, and
Chicken Noodle Soup...Healthy Comfort Food.
I am sharing at these awesome parties...join me!
A Rosie Sweet Home
,
Addicted to Recipes
,
Natural Mother's Network,
Lines Across My Face
,
My 1929 Charmer
,
The Sweet Spot
,
Flour Me With Love
,
Alderberry Hill
,
Skip To My Lou
,
Mommy By Day, Crafter By Night
,
Savvy Southern Style
,
Southern Lovely
,
The Project Queen
,
Ginger Snap Crafts
,
Mandy's Recipe Box
,
Fireflies & Jellybeans
,
Lady Behind The Curtain
,
Somewhat Simple
,
The Kings Court IV
,
Blissful and Domestic
House of Hepworths
Miz Helen's Country Cottage
,
A Little Nosh
,
Seven Alive
,
Happy Go Lucky
,
Stuff & Nonsense
,
One Chatty Chic
,
The REAL Housewives of Riverton
The Farmhouse Porch
,
Country Momma Cooks
,
Grocery Cart Challenge
,
Tatertots & Jello,